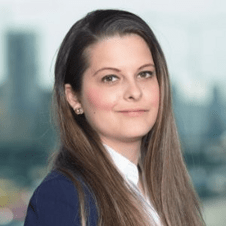 Malin Segelström
Consultant Manager – Stockholm
Vad gör du om dagarna?
Jag jobbar som konsultchef och har ett gäng härliga konsulter som är ute på uppdrag. Utöver det så arbetar jag med försäljning. 
Vem är din förebild?
Jag blir ofta inspirerad av olika idrottare som har ett pannben utav stål. Genom åren har det varit allt ifrån Kajsa Bergkvist, Pernilla Wiberg, Anja Pärson, Viktoria Sandell Svensson till Charlotte Kalla, Stina Nilsson och nu senast Frida Karlsson och Ebba Andersson. Helt makalöst att se tillbaka på hur många fantastiska idrottskvinnor vi har haft. 

Vilken teknisk pryl tar du med dig till en öde ö?
Kamera
Favoritcitat?
If you change the way you look at things, the things
you look at change - Wayne Dyer
Vad är det bästa med Sylog?
Alla underbara människor man får jobba med, men också möjligheten att vara kreativ i sin roll och att idéer och tankar blir hörda.